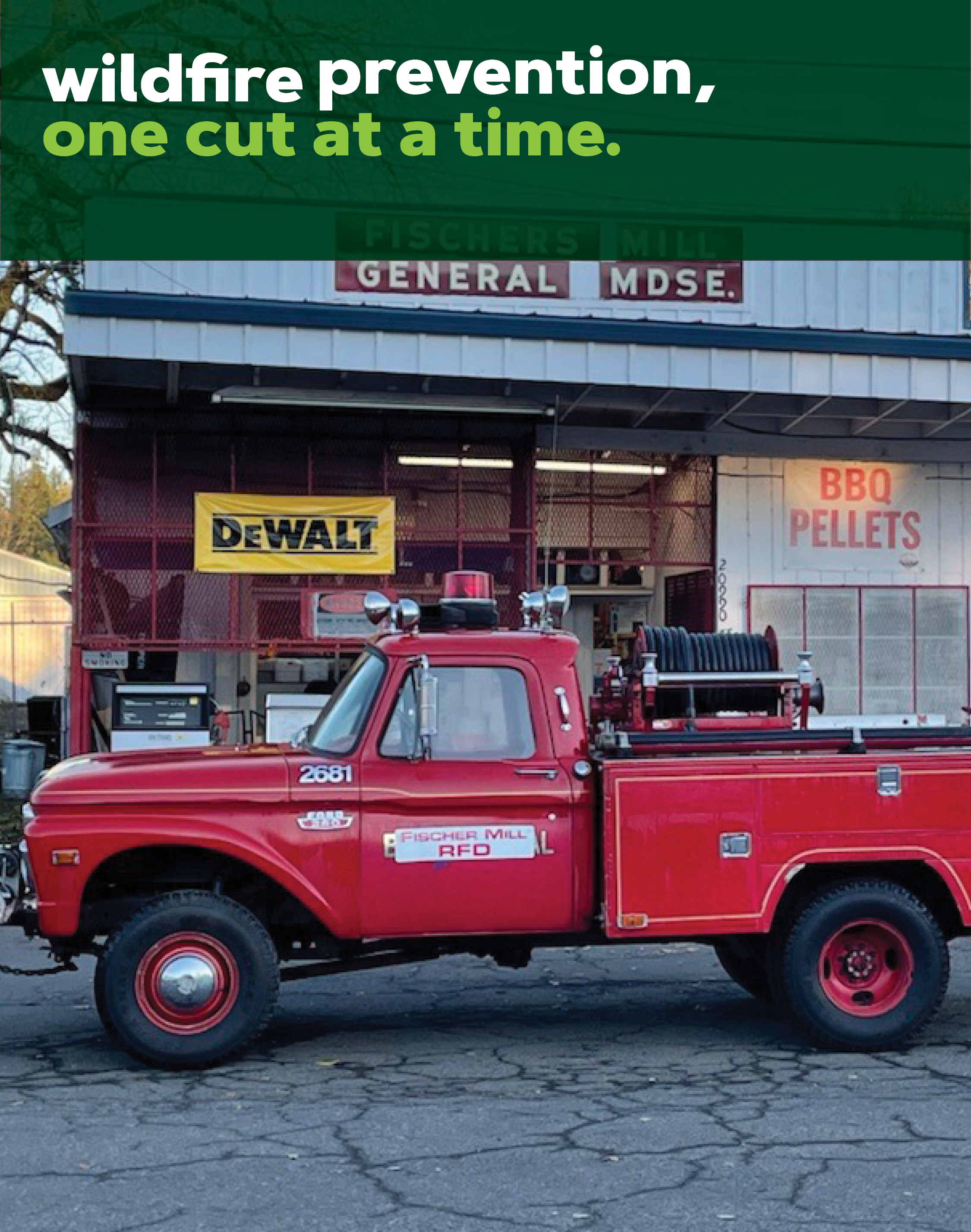 Preventative Measures to Ward off Wildfires
THE POWER OF PREVENTION
Yes, A Firetruck
In Oregon, the seasonal wildfire threat is so strong that, in 2019, the owner of a Woods® equipment dealership in Oregon City bought his own vintage firetruck to help protect his business.
Dealership owner, Dean Fischer, said he's had close calls with wildfire. He knew, one day, the old firetruck might be his best bet for protecting the dealership from an out-of-control brush fire. Then, just one year after buying the firetruck, Fischer's instincts paid off. During a historic Oregon wildfire season, the Dowty fire raged across more than 800 square miles of land, and it was headed straight toward Dean's dealership.
The Dowty fire was about 15 miles away from us and ended up getting within a quarter mile of the business," Fischer said. "I told my sons and employees, 'Boys, we got a long night ahead of us'.
Fischer says he spent the next four days protecting his dealership, Fischer Mill Supply, and his family's mill.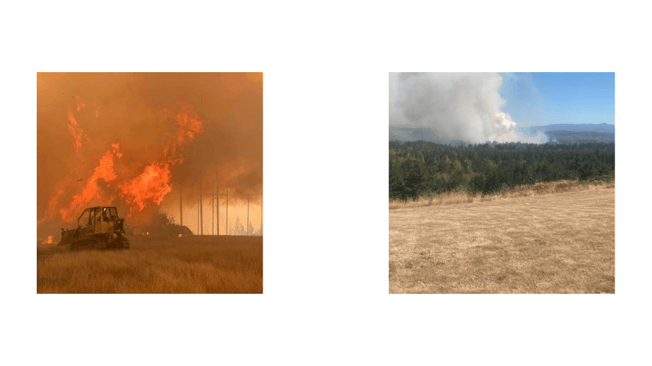 PROACTIVE PRODUCTIVITY
Woods Equipment Company District Manager, Chris Haefer, supports Fischer Mill Supply and several other Woods® dealers in regions prone to brush and wildfire. He says there is a deep appreciation for first responders and firefighters in these areas under seasonal wildfire threats.
Just like Dean Fischer, many local dealers want to do their part. They're engaged in helping protect their communities and first responders by minimizing fire risk.
Fischer says it's common for customers to visit Fischer Mill Supply looking for a rotary cutter or finish mower to keep a proper defensible zone around their homes.
"We sell a lot of the brush cutters in August," Fischer says, "But, the time customers should be mowing is back in June. If you mow in June, you have green grass in August. Then, when the grass starts to dry out and brown in September, it's already cut down."
If a customer is forced to cut in August, Fischer tells them to do the work very early in the morning, when the ground is visibly damp, to help avoid sparking a fire.
CREATING A DEFENSIBLE SPACE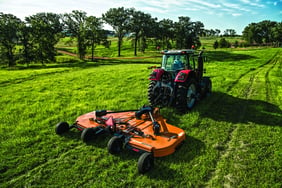 Oregon, California, Texas, Arizona, and Colorado are just a few states that either encourage or require homeowners to mow, cut and remove brush debris for proactive wildfire prevention. Keeping debris and brush down not only helps protect the homeowner's property, but it also helps stop the spread of nearby wildfires.
The United States Department of Agriculture National Forest Service recommends homeowners keep lawns watered, mowed, and clear of brush and debris within 30 feet of the home. For homeowners with larger acreage, a tractor-attached mower or rotary cutter can make easy work of keeping tall grass and brush cut down throughout the year.
Six TIPS TO SAFELY USE WOODS

® MOWERS AND ROTARY CUTTERS
Rob Dewey, Business Segment Director for Woods Equipment Company, has supported the brand for more than 30 years and leads the product management team. Rob offers six tips for helping customers properly maintain their mowers and rotary cutters to prevent fire.
Set your cutting height to prevent ground contact with debris and rocks that might cause sparks.
Properly maintain your slip clutch, so you don't have excessive slippage that can cause heat and start a fire. If you hit an object and cause clutch slippage, raise the cut height, and run the rotary cutter with no load for two minutes to allow the clutch to cool before returning to mowing.
Keep your blades sharp so cutting is done as efficiently as possible to prevent overheating of your tractor and rotary cutter.
Check the gearbox oil level and lubricate the unit per your owner's manual to ensure you don't have a gearbox or bearings overheating which can cause a fire.
Stop as needed during mowing to clean dry residue off the deck that could be ignited by a spark.
Store your mower or rotary cutter at least 30 feet away from your home.

Woods recommends that customers cut and mow at the appropriate time of year and day per their local ordinances or state guidelines for wildfire prevention. Additionally, operators can find an owner's manual for every Woods attachment at woodsequipment.com. Customers can download an owner's manual for free. We highly recommend end-users review the owner's manual annually to ensure proper storage and maintenance of any Woods attachment.
Prevention, prevention, prevention
Whether you buy a vintage firetruck or a Woods® mower/rotary cutter, the best defense against wildfires are creative and effective prevention strategies. We're proud to supply our customers with the tools they need to defend their families and livelihoods against the increasing threat of wildfires across the nation. You can learn more about the various land management applications for Woods® cutting equipment by visiting Woodsequipment.com.