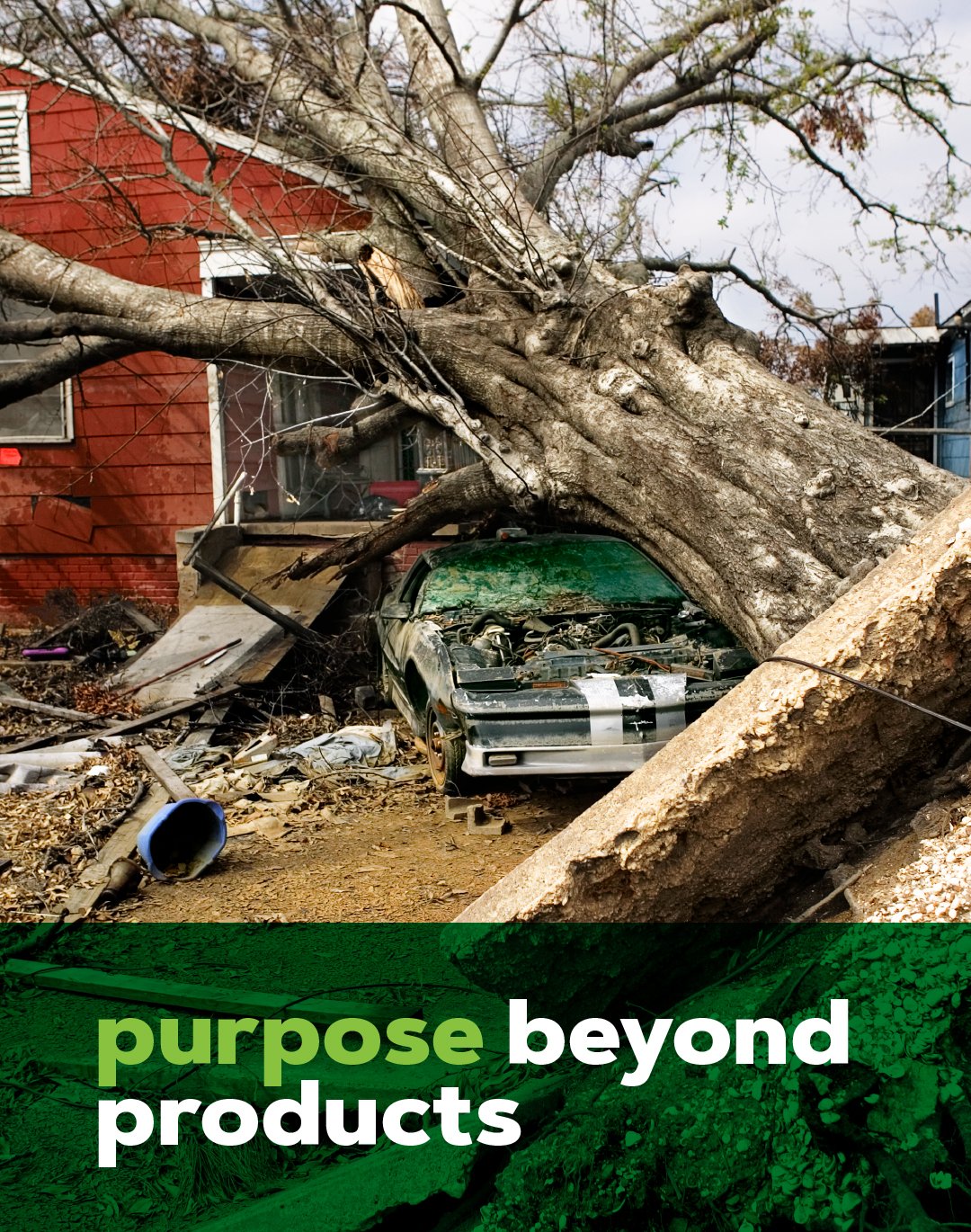 The true story of Oregon's disaster response trailer and the innovative team behind it.
WHEN DISASTER STRIKES
In the spring of 2011, at a time when tornados were wreaking havoc across the U.S., especially in places like Joplin, Missouri and Tuscaloosa, Alabama, two Oregon Tool Team Members had an idea.
Jeff Spencer and Scott Harris had worked together for years in the Kansas City sales division. Knowing the value of the Oregon product line and seeing the extent of the damage by not only tornadoes and hurricanes but wildfires and other natural disasters, they began to discuss the various ways in which Oregon could use its power as a company and an industry leader to lend a hand to those in need.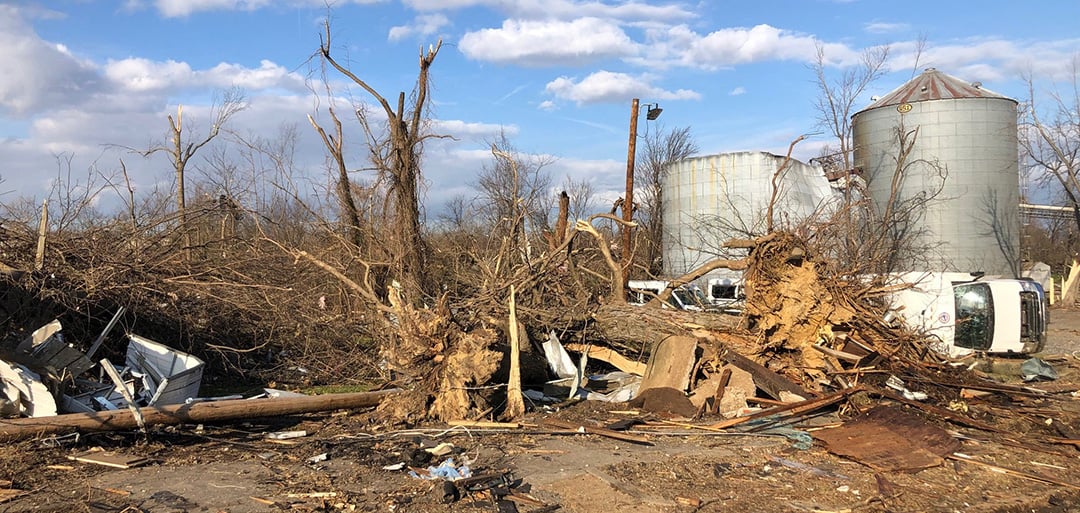 When disaster strikes, a network of first responders are called into action, from local fire departments and charitable organizations to larger, national entities such as FEMA. Relief crews work around the clock to save lives and, over time, return a devastated region back to some semblance of normalcy. This can takes months of hard work, in which homes have to be rebuilt and roadways cleared of debris.
Jeff and Scott knew that if they could get Oregon products and services to the people who needed them most, they could save first responders a lot of time and help struggling communities around the country. The only problem was how to make it happen.
DON'T WORRY, THEY'VE GOT A PLAN
From its founding by Joe Cox in 1947, Oregon Tool has been a company where a good idea can bring forth monumental change. Jeff and Scott came up with a plan to outfit a trailer with various chainsaw parts and the tools needed to service them. This way they could go directly to the first responders and assist them on the ground.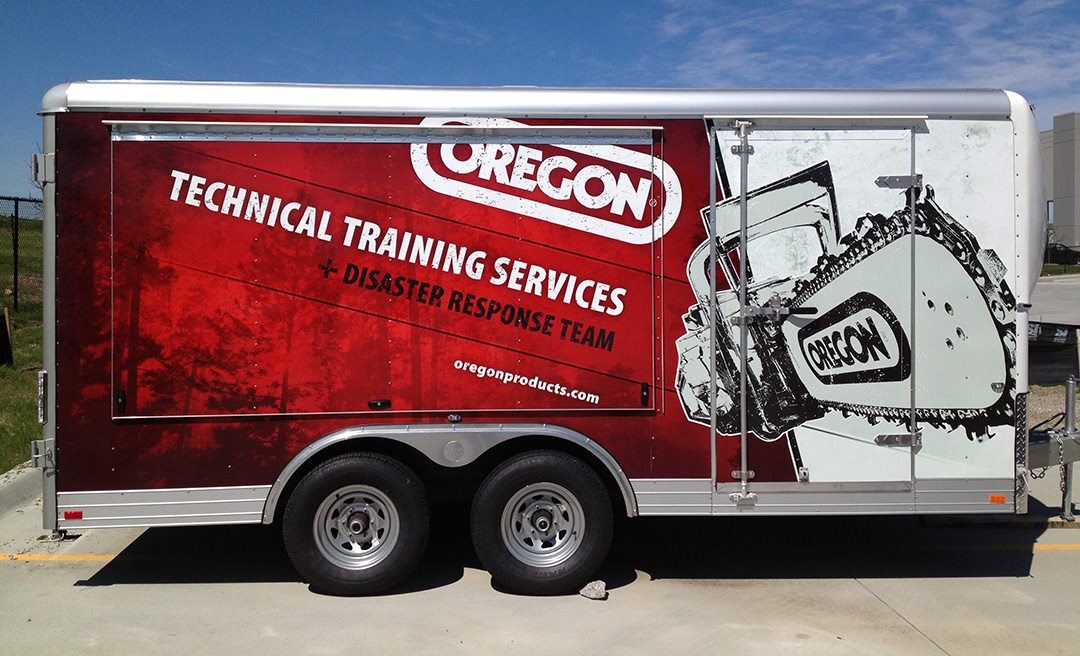 They brought in Earl Miner, the head of Oregon's technical service team in Portland. With his expertise, and after months of refinements, they submitted their idea for a disaster response trailer to senior leadership, requesting the funds to turn their dream into a reality.
By the late fall of 2011, they received their answer: a resounding "Yes."
OUTFITTING THE TRAILER
On approval of their plan, they ordered a 16-foot Wells Cargo trailer. It arrived in Kansas City the following spring, and they worked on it nights and weekends in Jeff's driveway with the help of his son, Chad, a contractor and carpenter by trade.
We understood what we needed to make this trailer ready to go and serve at a minute's notice, should we be called into action.
Dedicating themselves to their task, they worked through the spring and summer, outfitting the trailer with a generator and a compressor, cabinets and workbenches, hand tools and chain grinders, as well as plenty of saw chain and other spare parts. They created a one-stop mobile repair shop, ready to provide general maintenance for chainsaws, including sharpening chains, cleaning air filters and bar grooves, replacing drive sprockets, and performing minor tune-ups.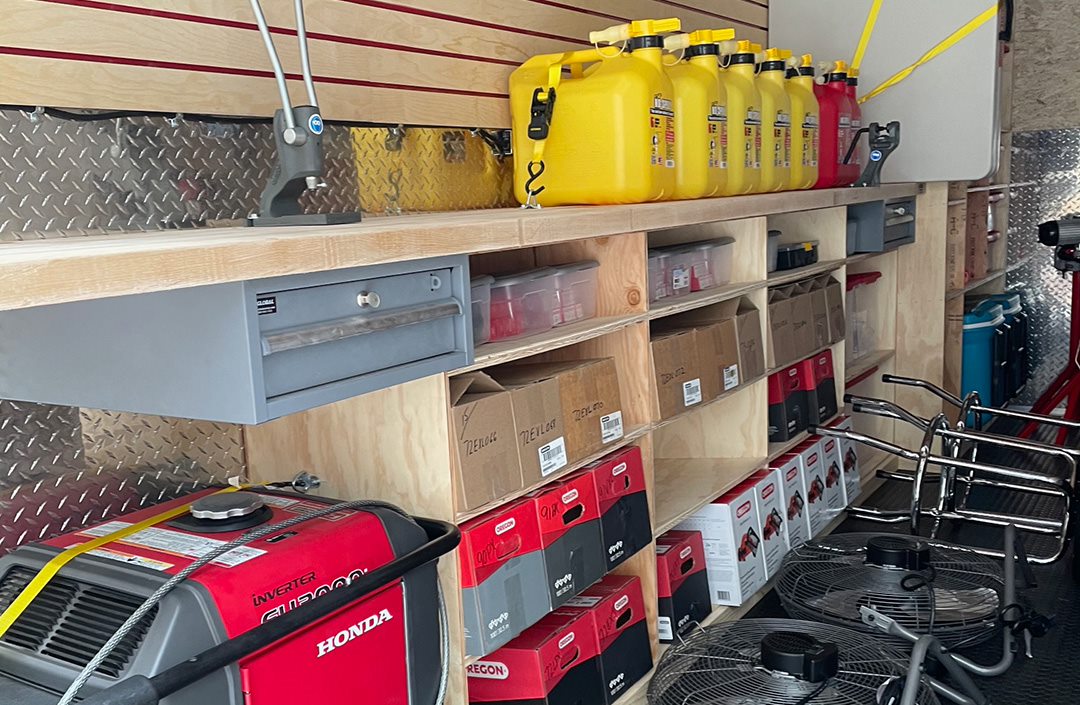 That October, the trailer made its debut at The Green Industry & Equipment Expo in Louisville, Kentucky. It was a major accomplishment, not only for them but for the company, a rolling beacon of quality, craftsmanship, and commitment to the greater good.
We showed the industry we were the best in class in our field and ready to help those in need.
ANSWERING THE CALL
Before the tradeshow was over, a breaking news story revealed that a massive hurricane was heading up the East Coast. It was Hurricane Sandy.
Working closely with distributor Gardner-Connell, they put together a team that included Randy Jensen, John Dilworth, and Adam Joensen. Jeff and Randy took the trailer straight to Pipersville, Pennsylvania, while the others coordinated with various dealerships in the area. They arrived a day before Sandy made landfall and rode out the storm.
It was exciting to be there and prove that we could make a difference for those affected.
The storm was devastating. Hurricane Sandy killed 285 people. It destroyed homes and businesses up and down the East Coast and caused over $71 billion in damage. Many lost power for weeks. It was, and still is, the costliest natural disaster to ever hit the greater New York area.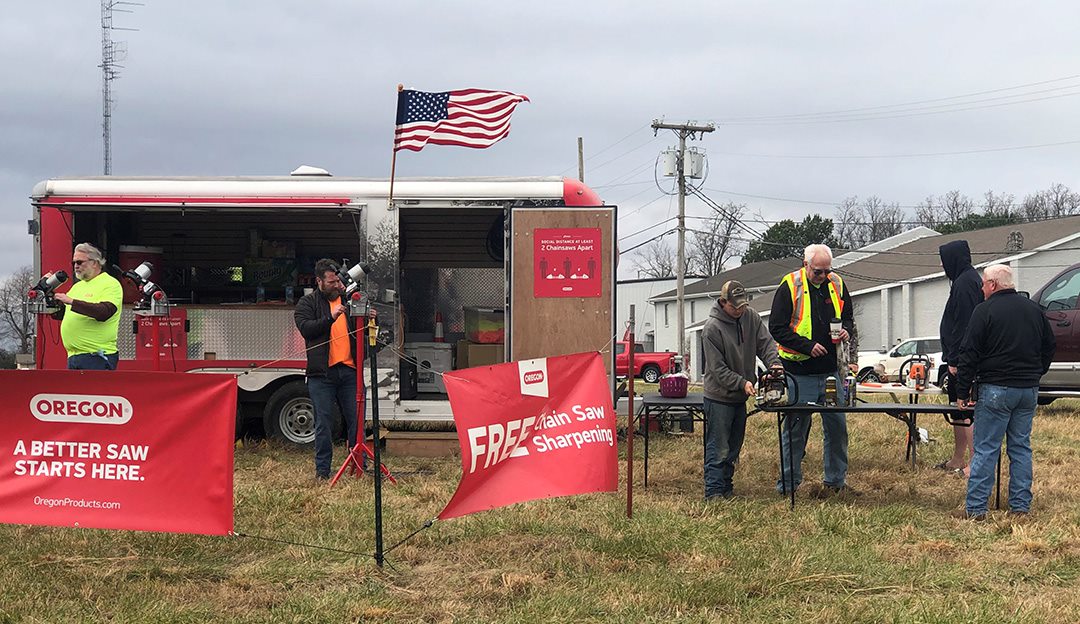 Jeff and Randy worked out of the trailer for ten long days, grinding chain in the sun and rain, sometimes freezing rain, and sometimes even snow. They sharpened, repaired, or gave away over a thousand saw chains, along with various other chainsaw parts, for free. With the power-outs and widespread damage, food was hard to come by, so the Gardner team brought sandwiches and snacks, enough for them and many others in the area.
You can't imagine the feeling of helping people who are desperate just to get a tree off their home or car, or an electric company trying to get trees off the power lines to begin restoring the electricity for their area.
There were thanks, high-fives, and hugs, even a home-baked item or two that came their way. They could tell that the service was sorely needed, and that the people they helped and the communities they served were grateful.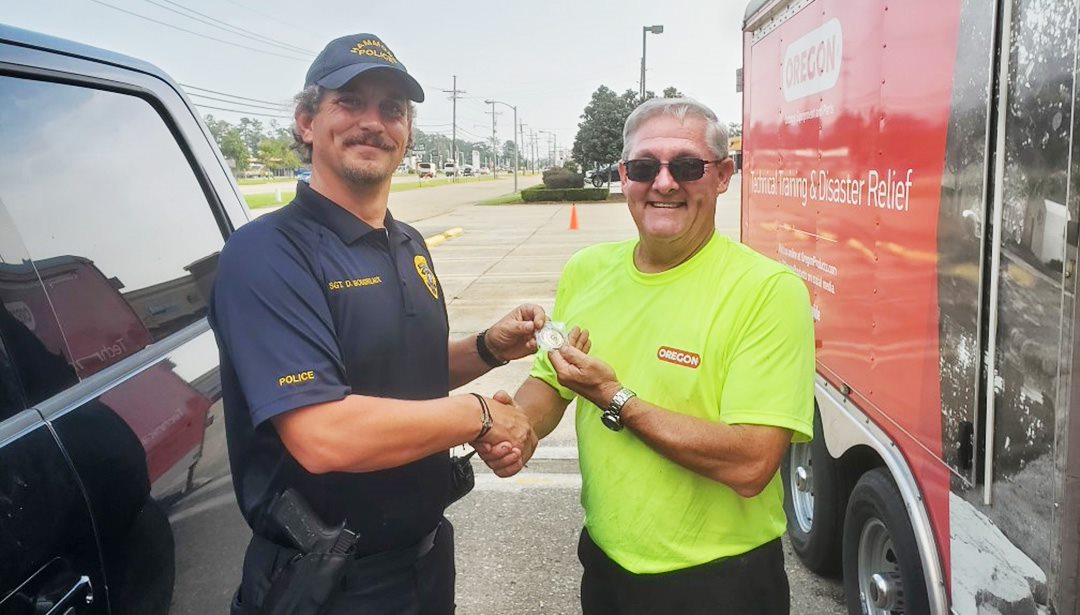 How proud we were to be working for an organization that trusted our instincts and desire to help all.
SO MUCH WORK TO BE DONE
Oregon Tool told them, "Do what it takes to get the job done right." And that's exactly what they did. Since Hurricane Sandy, the disaster response trailer has been to numerous hurricanes, as well as tornadoes, wildfires, and other weather-related events.
In the aftermath of Hurricane Laura, which ravaged parts of Texas and Louisiana in 2020, the team sharpened over 2,700 chains and repaired almost 500 more. Every day, for sixteen days, they drove two hours to their site in Lake Charles from their hotel. With wind gusts up to 150 miles per hour, the category four storm took out over 750,000 acres of timber, enough trees to build 28,000 new homes.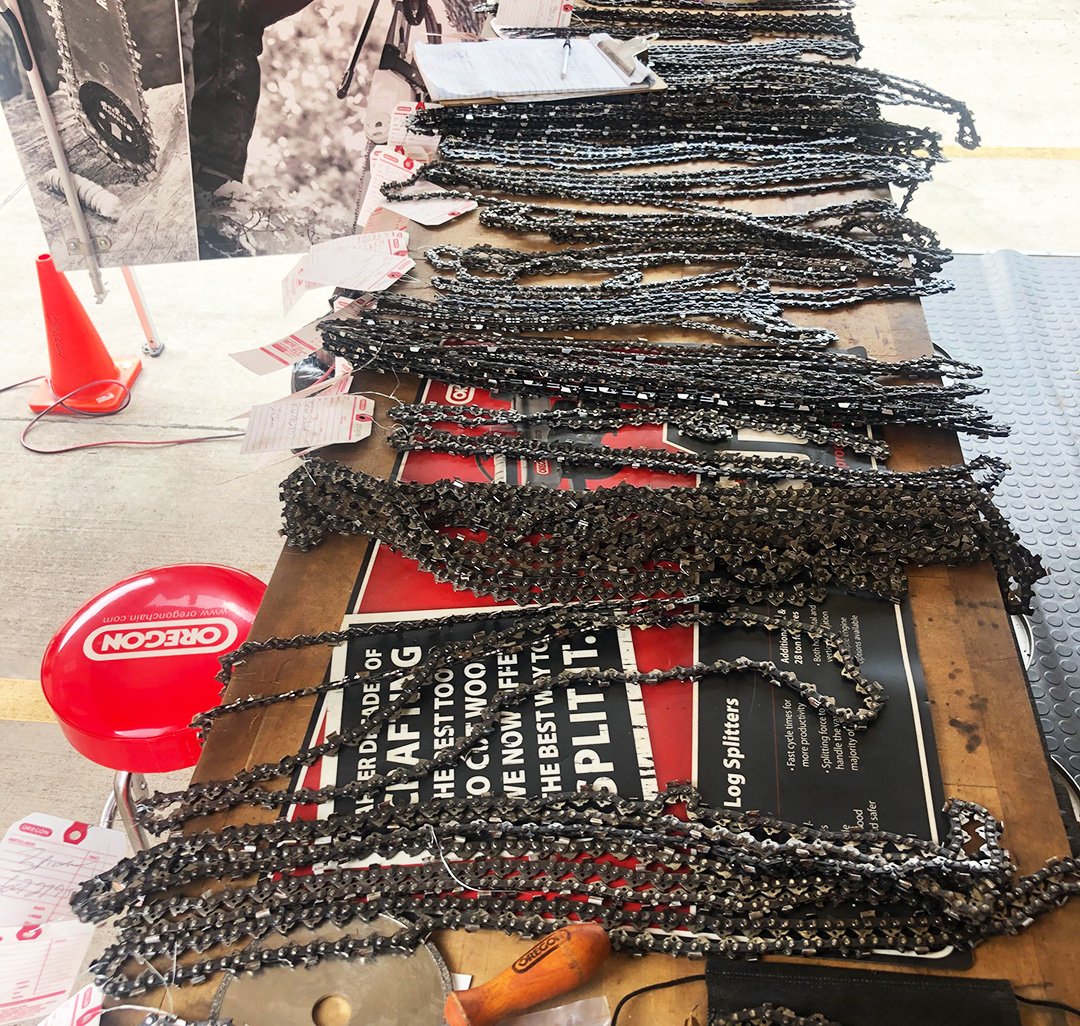 There's a shortage of chainsaws in Lake Charles, so if we couldn't get them sharpened, we would be out of business. We wouldn't be able to cut any wood.
- Lake Charles resident
The 2020 Oregon wildfires burned over a million acres. That September, the team set up a second trailer at Clackamas Community College, where the fire department had a base camp. Randy Jensen and Glenn Lovell assisted firefighters by sharpening and repairing nearly a thousand chains over the course of nine days. They also fueled and oiled the firefighters' machines. Every firefighter stopped by to thank them for their service.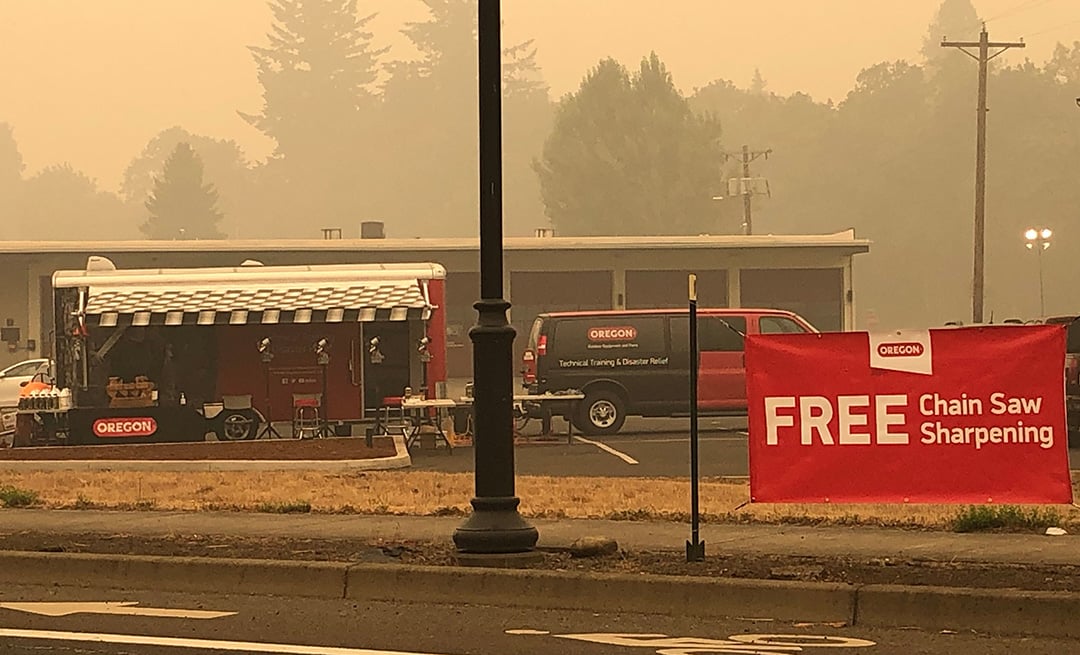 I'm not kidding when I say that Glenn and I heard 'Thank you for being here! You guys are awesome!' a couple hundred times.
THE HEART OF WHO WE ARE
In the years to come, Oregon plans to expand its vehicle fleet, bringing its program and services to others in need, wherever they may be. Our company is devoted to making a positive impact on people, communities, and landscapes around the world.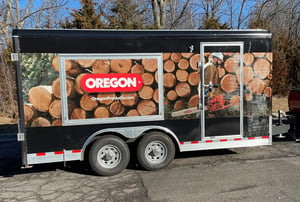 This sense of global stewardship manifests itself in many forms, whether through technical training and disaster response trailers or forest restoration projects, partnering with international organizations to plant trees and make sure that the resource of timber is truly renewable.
Our team members are passionate about their work, men and women like Jeff Spencer, Scott Harris, and Randy Jensen, who serve a higher purpose than the products they make and sell.
And we couldn't be more proud to have them with us.